Dubai can rightfully be considered one of the most interesting places on Earth, because this fantastic city is filled with masterpieces of architecture, the latest technology, world records, and real wonders. One of the local wonders is the Palm Jumeirah, the world's largest man-made island in use. On its branches that make the shape of sprawling palm leaves, there are residential villas, shopping centers, hotels and restaurants, but today we would like to introduce you to another iconic place in the archipelago. Welcome to The Pointe - a shopping and entertainment complex located opposite the famous Atlantis the Palm hotel.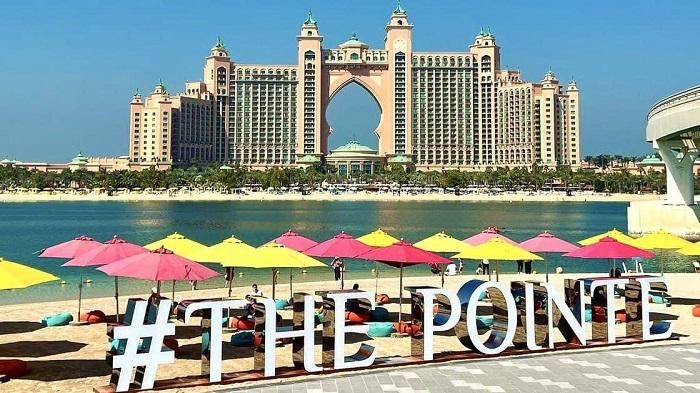 The complex is a picturesque walking area with restaurants, shops, and another grand landmark of Dubai - the world's largest dancing fountain, consisting of two symmetrical parts.
The embankment stretches for one and a half kilometers and has become a real attraction for tourists and locals. From here, you can enjoy stunning views of the crescent moon that circles Palm Jumeirah, while the fresh sea breeze brings the coolness which is so desired in the hot climate of the UAE. The whole complex is divided into two parts called East Side and West Side. Between those, there is a concert venue connecting them, designed for performances and other events. Enrique Iglesias was the first world star to perform here.
All in all, The Pointe has brought new energy and excitement to Dubai's entertainment and dining scene, offering a choice of dining options at more than 80 restaurants. There are establishments of different types here: from luxurious and refined to simple but cozy family restaurants and cafes that can please both guests of the city and local residents with delicious food. The choice is huge! Here everyone, even the most demanding gourmet, can choose a dish to their liking. Here you can find restaurants of traditional Arabic cuisine, Mexican, Asian and many others. On The Pointe promenade, there are also world-famous chains of fast food restaurants, restaurants with all kinds of seafood, and other establishments famous for a variety of gastronomic delights. Also, beautiful panoramas and always fresh air will be a pleasant bonus, which many other places in the city are deprived of.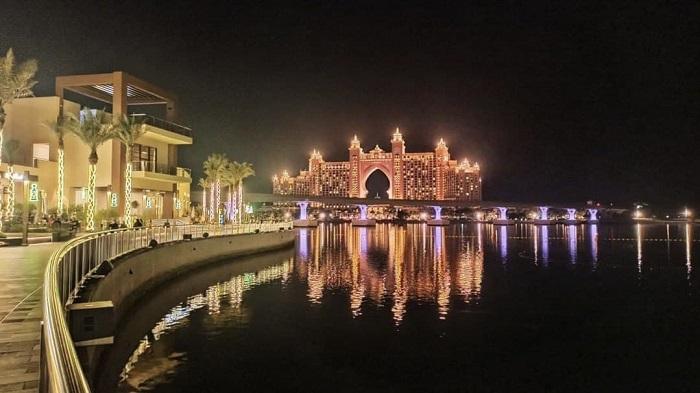 Shoppers will be pleasantly surprised by the number of well-known brands on The Pointe promenade. You can find everything here, from fashionable clothes to various goods that are needed for everyday life, body care and many other goods and services.
The Pointe Palm is a one-stop destination for the whole family that solves several tasks at once. There is a Cheeky Monkeys kids area where younger visitors can have fun. Children will have the opportunity to climb climbing walls, jump on trampolines and ride various slides, as well as do other exciting things that children of all ages will definitely enjoy. Those into a more relaxed pastime will like the huge Reel Cinemas, which consists of five halls, three of which are dining rooms.
Despite the fact that The Pointe is a shopping and entertainment complex, those who want to relax on the beach will also find a cozy place for themselves here. Soft sand and warm water are harmoniously united with the magnificent view of the surrounding sights, which you can enjoy while swimming in the waters of the Persian Gulf.
Those who care about their physical health are invited to visit one of the state-of-the-art fitness centers that provide a wide range of workouts for people of all fitness levels.
But the biggest attraction of The Pointe, is indeed the Dancing Fountain, which got into the Guinness Book of Records as the largest fountain in the world.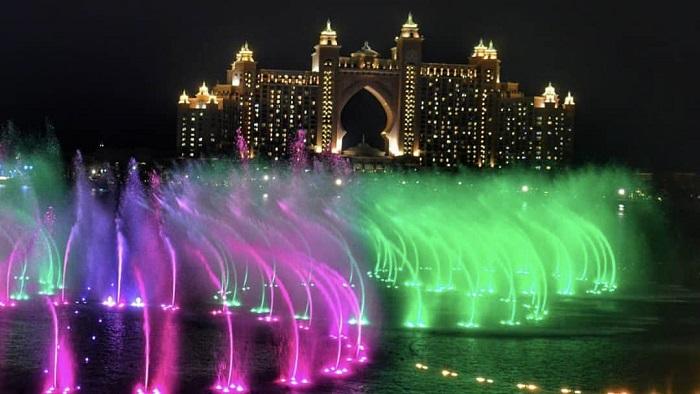 It consists of giant floating platforms that cover 14,000 square meters of water surface, and jets of water soar up to 105 meters high, lighting up the sky of Dubai with 3,000 multi-colored LED lights. This stunningly beautiful show is accompanied by the most popular musical hits from around the world, bringing the audience into a true delight with a spectacular performance. A 3-minute light and music performance takes place every half an hour, from 7:00 pm to midnight.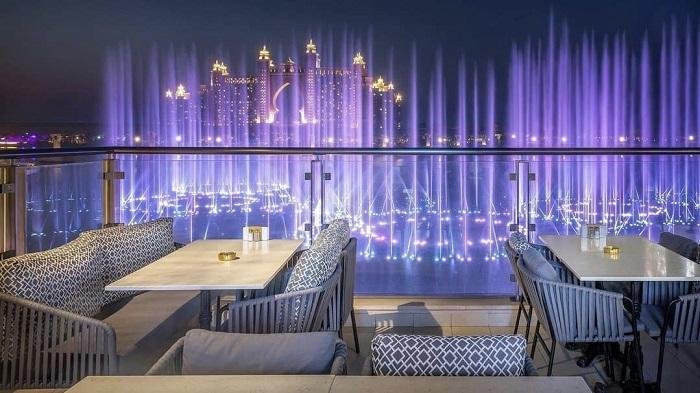 The Pointe offers you everything to make any day spent here truly unforgettable. You can go shopping, walk along the picturesque promenade, dine in the best restaurants and enjoy an amazing fountain show. This shopping and entertainment complex is suitable for family holidays, being a unique area for all dreams to come true. Discover this amazing place in Dubai and you will want to come back again.

---

Welcome to the Touristino Dubai website!
You can buy tickets at a discount
«Tours in Dubai» here >>>
---