Motiongate Dubai is one of the largest theme parks in the United Arab Emirates. All entertainment there is reminiscent of Hollywood, combining three outstanding film studios: Columbia Pictures, DreamWorks, and Lionsgate. It was these film studios that created such masterpieces as the Hunger Games, Transylvania Hotel, The Smurfs, Shrek, Madagascar, and Ghostbusters.
PARK ATTRACTIONS
In total, this park has five entertainment zones that offer visitors about 30 different attractions.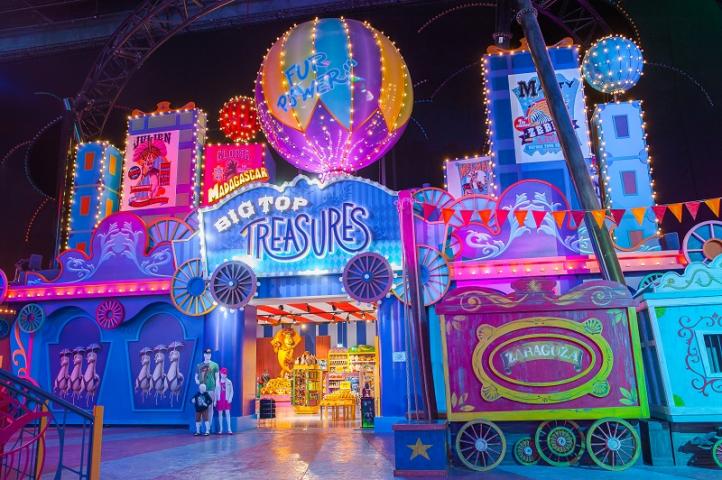 The first zone is Columbia Pictures. It includes 9 attractions that are dedicated to famous films and cartoons:
1. Hotel Transylvania attraction is based on the popular cartoon. This is an exciting family tour of Dracula's hotel.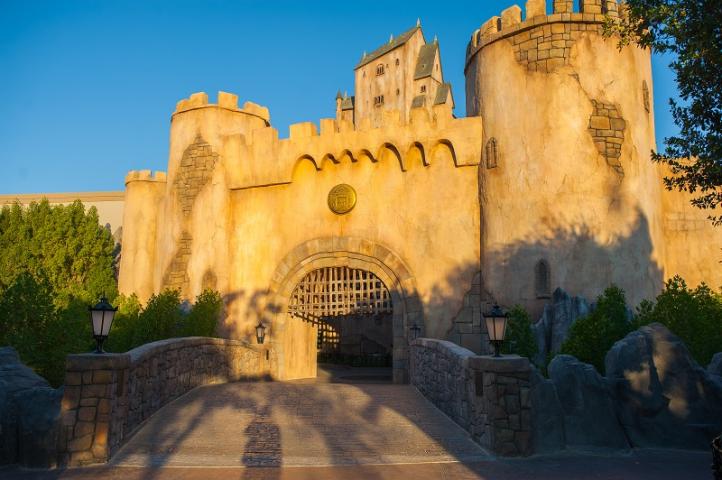 2. River expedition. Cloudy, with a chance of meatballs. You already guessed what kind of cartoon we are talking about. This is a water attraction where guests can ride along the river through the dense jungle.
3. Green Hornet. This is a classic rollercoaster based on the famous series with Bruce Lee, which gives a powerful adrenaline rush.
4. Flint's laboratory. Everything here is created for the youngest visitors - inflatable food, large soap bubbles, and many other types of entertainment.
5. Ghostbusters. This is an interactive fun shooting game. Here you can demonstrate your ghost hunting skills, ride to the Temple of Gozer and take part in the battle for New York.
6. Underworld 4D. This is a cinema where you can go on a retrospective journey through time and see the story of the war between werewolves and vampires based on the popular franchise.
7. Zombieland is not an attraction for the heart-fainted, because it is a tower 58 meters high, which is designed for a high-speed ascent to the very top and free fall.
8. Beklot Bit. Musicians perform live here, providing people with a chance to enjoy songs from different times.
9. Ghostbusters Show. Last, but not least - the final entertainment of this zone is an animation dedicated to Ghostbusters.
The next entertainment area is based on the Dreamworks cartoons. There are 13 attractions there: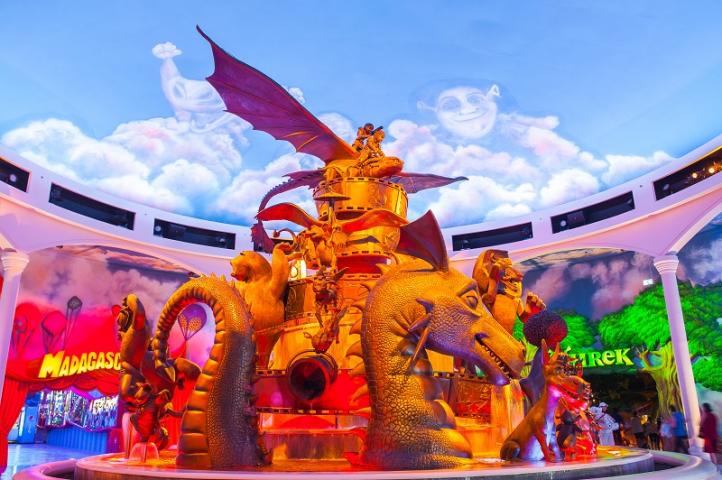 1. Shrek's journey. Here, the audience can take a ride and enjoy the show about the adventures of Shrek and Fiona.
2. Shrek's swamp party. This is a fun attraction where guests ride in a log through a swamp.
3. Mad Pursuit roller coaster based on the Madagascar cartoon.
4. Giraffe Melman's carousel.
5. Madagascar penguins flight. Here visitors can fly with penguins and mechanic chimpanzees.
6. Bright show of King Julian with his branded jokes.
7. A show called "Operation Penguin".
8. 4D ride down the river accompanied by your favorite characters from the Kung Fu Panda cartoon.
9. Mr. Ping's carousel. Here, the guests rotate in large bowls of noodles.
10. Kung Fu Academy, where master Shifu himself will teach this martial art.
11. Soaring Dragon. This is a cool attraction where guests will fly on a dragon's wing over the Viking city.
12. Viking camp: a large playground with water cannons and ships.
13. Viking attraction: a voyage on a huge ship of the northern navigators-conquerors.
The third zone of the park is dedicated to the Smurfs village. There are five attractions with fabulous houses in the form of mushrooms and cute blue men here.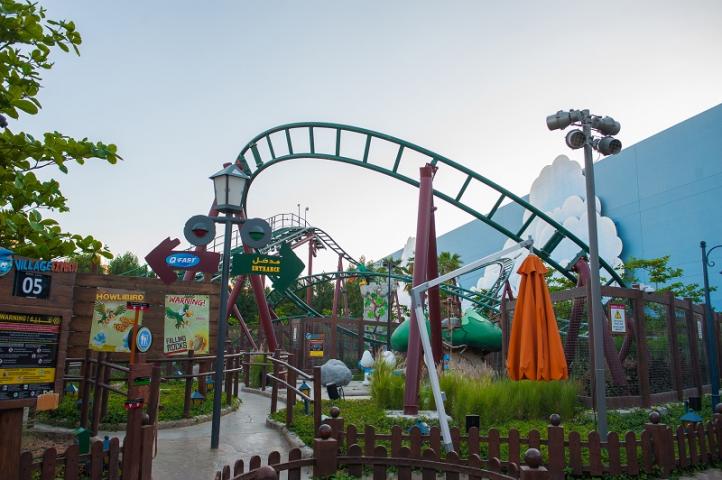 1. The first entertainment that can be found here is a trip with a sightseeing tour of the territory of the film studio.
2. Woodland Playground. Here, kids can play in the rope park and labyrinths.
3. Smurfberry Factory. Here, children can help the Smurfs gather berries and make jam.
4. Rollercoaster in the village of charming smurfs.
5. And finally - the Smurf show.
The area of the Lionsgate film studio combined two films - "The Hunger Games" and "Step Up".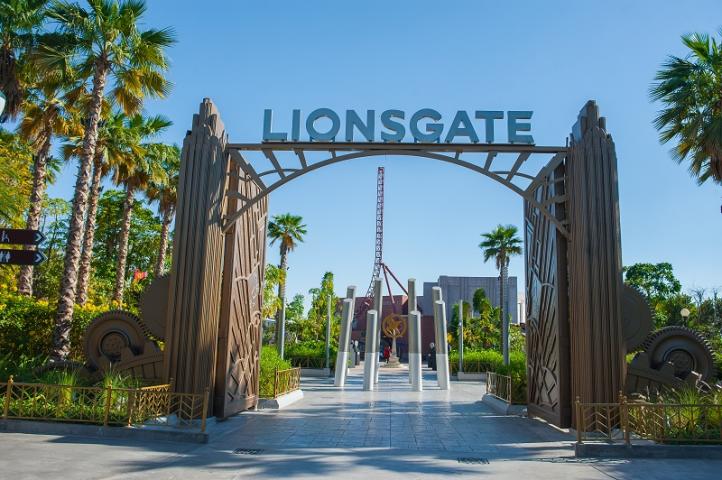 There are three great rides here:
1. Capitol Bullet Train roller coaster: 570 meters long, with a dead loop, where the speed reaches 50 km/h.
2. Panem Aerial Tour flight simulator in 3D, where guests fly and escape chasing over the landmarks of the Capitol and Panem.
3. Bright dance show based on the movie "Step Up".
Restaurants and souvenir shops
You will definitely not be hungry here, because the park has dozens of cafes and restaurants for every taste - Italian, Oriental, Chinese cuisine, fast food, salads, pizza, and sweets. Prices are average.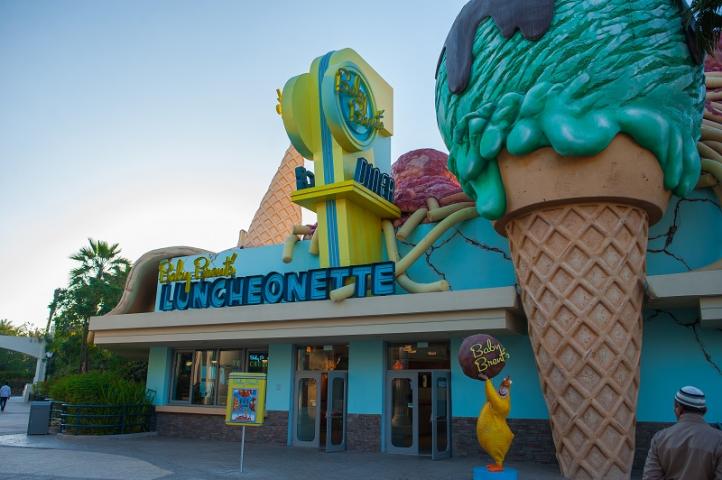 Also, on the territory of the park, you can buy souvenirs, as souvenir shops are located at every step, and there are about two dozen of them in total. You can buy clothes, jewelry, cosmetics, bags, towels, toys, and other goods in the style of your favorite heroes and characters.
You can get to Motiongate Dubai by city bus DPR1 from Ibn Battuta Metro Station (red metro line). The bus leaves in 7:20, 8:35, 09:50, 11:05, 12:20, 13:35, 14:50, 16:05, 17:20 and 18:35. The opposite direction is to 14:15, 15:30, 16:45, 18:00, 19:15, 20:30, 21:45 and 23:00. One way fare is AED 5 (1.4$)


Motiongate Dubai is a place where entertainment for everyone can be found, because everyone likes to watch movies and cartoons, including adults. Being inside favorite plots and stories is a dream that is about to become a reality. All you have to do is to visit this amusement park in Dubai.


---

Welcome to the Touristino Dubai website!
You can buy tickets at a discount
«Tours in Dubai» here >>>
---