Starting on October 31st with Legoland Dubai, DXB Entertainment PJSC (a Meraas majority holding company) gradually released to the public the largest themed park in the Middle East. The gradual opening has been completed by the end of 2016. Dubai Parks & Resorts covers an area of 2.3 million sq.m. and is comprised of four individual themed areas, Legoland Dubai, Legoland Water Park, Bollywood Park and Motiongate.
Riverland, a 22,000 sq.m. themed park by itself, is the gateway to the main park. It is also comprised of four districts, The French Village, Boardwalk, India Gate and The Peninsula, with an 1 km river running through the districts.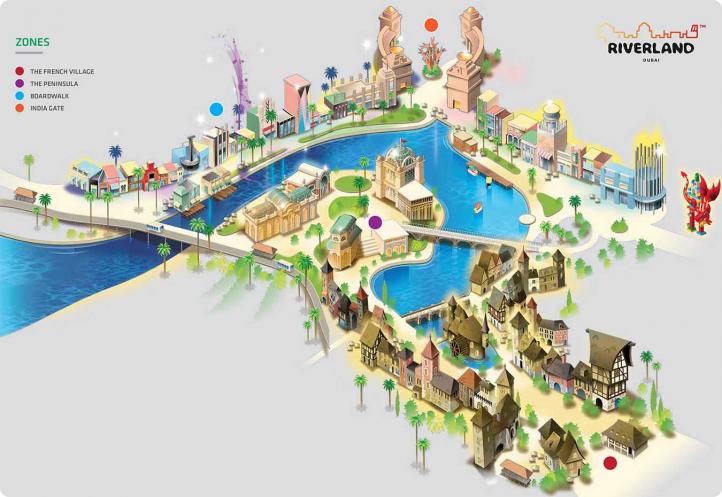 The French Village is built according to the late 17th century architectural trends of Western Europe. Boardwalk brings to Dubai the thrill of the 1950's America. India Gate, as the name implies, welcomes you to the subcontinent and The Peninsula, with its 19th century architectural design, is the centre of the Riverland.
There are 3 outdoors (Island Plaza, Riviera Plaza and Boardwalk Plaza) and 1 indoor (The Encore) venues that are perfect for holding private functions and corporate events, such as weddings, birthday parties, conventions and meetings.
Over 50 restaurants and cafes, matching the district that they are at, offer to the visitors a wide range of culinary tastes.
There is no entrance fee to the Riverland. There is also free shuttle service from major hotels to Dubai Parks & Resorts that services Riverland as well.