Wild Wadi Waterpark Dubai is not the largest complex of its kind in Dubai (its total area equals 4.8 hectares), but it attracts many tourists due to the variety of unique attractions, entertainment, and high technology in general. More than 20 years ago, it was the first place people associated with leisure and family entertainment, being a symbol of the tourist infrastructure of the emirate.
The project was opened in 1999. It is located in the elite beach area of the city - Jumeira. The complex is located in the luxury hotel Jumeirah Beach and is adjacent to popular tourist sites which are the symbols of Dubai: the famous sail-shaped Burj al Arab and the "Arabian Venice" complex Madinat Jumeirah, guests of which have unlimited access to the amusement park.
In accordance with the main idea, WW imitates the turbulent mountain stream of the Wadi. The very concept of "wadi" in the traditional sense implies natural seasonal rain streams that form real rivers and replenish mountain lakes, as well as supply remote settlements with drinking water, thanks to which they have acquired a very important historical and cultural significance. The attractions of the park are connected with Arab legends and are united in a common concept with the life stories of the famous traveler Sinbad.
Wild Wadi includes 30 slides, all connected to one network through channels and water entertainment. In total, the length of the waterways of this park is 1.7 kilometers. On its territory, you can find a large reservoir with artificial waves (Breakers Bay), which is the largest object of this type in the entire Middle East. There is also a lazy river 360 meters long and two separate installations for surfers.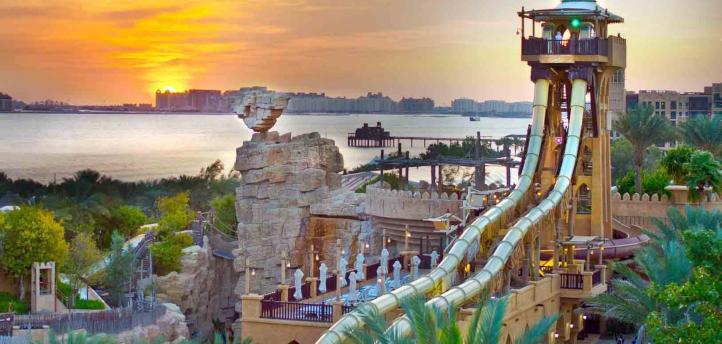 The following items deserve special attention:
Jumeirah Sceirah: a super-high-speed twin slide, one of the largest attractions of this type in the world. A total length equals 120 m; a height is 32 m. Here, it is possible to reach a speed of about 80 km per hour. In 2012, the attraction was upgraded to include the popular sinking floor effect. This made the attraction one of the flagship attractions in the UAE. We should also mention that the maximum weight of those who wish to try it should not exceed 136 kg.


Burj Surj is a tube ride on an inflatable donut with many turns, spirals, and twists for an exciting trip for a group of several people. Guests are literally washed away by a stream along the walls of huge pipes and nodes, where they enjoy dizzying turns.

Master Blaster - eight different open tube portals designed for riding on 1-seat or 2-seat donuts (which is pretty fast, by the way). The unique feeling is provided by the upward movement in the initial phase of the trip, against the force of gravity, until you reach a height of 15 m, from where the spurt begins directly.


Tantrum Alley is a series of two extreme descents and three so-called "tornadoes" with real whirlpools on four-seater inflatable donuts, after which guests are literally thrown down into the pool.


Juha's Journey is a calm 360-meter river with a slow flow, passing through the entire area of the water park. People of any age are allowed to the river, but children must be accompanied by adults in any case.

Juha's Dhow and Lagoon is a lagoon for the smallest ones with more than 100 entertainments and five slides, two of which are completely enclosed. There are also small waterfalls, stairs, swings, and a dhow ship for games by the pool with waves up to 2.5 m high, where you can learn the basics of surfing, as well as a giant bucket that pours water on children every 2 minutes.


Action River or Flood River is another variation of passive recreation for all age categories with an artificial wave up to one meter high, a number of waterfalls, tropical rain, and rapids. Parents should not be present at the descent of children.


Wipeout and Riptide is an oasis for boarding connoisseurs. Here you will be offered a unique experience that was developed together with the famous American surfer Thomas Lochtefeld. The supply of water at a rate of seven tones per second generates natural foam and creates ideal conditions for surfing in a lying position or on the knees.
Wave Pool is a giant pool for the whole family with giant waves one and a half meters high of various configurations and shapes. Adults should not leave kids alone. There are swimming vests that are available free of charge.


Wild Wadi waterpark map
On the territory of the entertainment complex, there are also a dozen catering establishments (cafes and restaurants for every taste), shops with swimming accessories, souvenir shops, a fish spa, and a recreation area.
Everyone with a height of more than 110 centimeters is allowed to the largest attractions, and kids can have fun on their playground without restrictions.
The water temperature is constantly maintained at +28 degrees Celsius. A team of professional rescuers works here.
It is also important to know that in the peak season, the admission to the main attractions closes 45 minutes before the park closes.
Visit this park with the whole family and get a sea of unforgettable memories and genuine bright emotions.


Tickets price:

Standard


Adults and children 1.10 m and higher – AED 249 (67.7$)




kids from 3 years old and below 110 cm – AED 219 (59.7$)


Kids below 3 years old are free of charge

Tickets price at the park gate

– AED

269 (73$)


Combo – Standard ticket + combo-meal voucher


Adults and children 1.10 m and higher – AED 275 (74.7$)




kids from 3 years old and below 110 cm – AED 255 (69,4$)




Kids below 3 years old are free of charge



Combo tickets are not available at the counter

Park Timing:
Daily 10:00 am – 6:00 pm
---

Welcome to the Touristino Dubai!
You can buy tickets at a discount
«Tours in Dubai» here >>>
---