Aquaventure is the name of the largest water park in Dubai, located in one of the parts of the legendary premium hotel Atlantis - right in the middle of the artificial island of Palm Jumeirah.
It is simply impressive that tens of millions of liters of fresh water are used to ensure the operation of this entertainment spot (which occupies 16 hectares of territory). Given that Dubai is located in arid lands, this is a colossal luxury even for such a wealthy city.
Despite its grandeur, in 2013 the complex was further expanded and in 2016 was awarded the "tourism Oscar" World Travel Worlds as the best water park in the Middle East.
In 2021, the third part was added to the complex: a 48-meter Trident Tower and two children's areas, thus bringing the number of Aquaventure attractions to 105, becoming the largest water park in the world.
The visitor to the water park will discover the following:
an abundance of slides of various steepness - each of them is unique and interesting in its own way (and you will certainly feel the desire to try to ride each of them in one visit)
entertainment area for children
beach
common recreation areas
cafés
restaurants
shark lagoon
dolphin bay
cable car
Mainly, the most extreme slides and rides are concentrated in the two main towers: Neptune and Poseidon. Entrance to them is allowed to people above 1.2 meters. An incredible number of attractions and slides make it next to impossible to try everything in one day. Each of the attractions has its own "spirit", thanks to which the descent will be something completely different from other entertainments in the complex. Some of the attractions will allow you to ride at high speed, others are designed for a slow tour. Besides, you can test your courage in both open and closed tubes, where you will ride in the dark for a more immersive effect.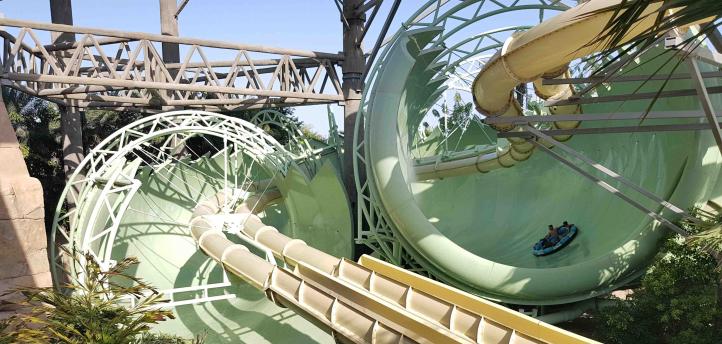 The Neptune Tower includes activities of the following types:
The Leap of Faith is a creepy-looking pipe that starts from the highest point. It is considered by many people to be Aquaventure's most popular and signature location. Almost completely vertical at its beginning with a transparent tunnel at the end - during the trip, you are surrounded by real sharks, rays, and other sea inhabitants. The total length is 61 meters and the height is 27.5 meters. Visitors go down the hill without an inflatable ring.


Shark Attack is a walk on a single or paired inflatable doughnut through a mysterious portal that passes right through the lagoon teeming with marine predators.


Water Coasters is a doughnut ride through numerous exciting curves with countless ups and downs, which will give visitors a lot of adrenaline.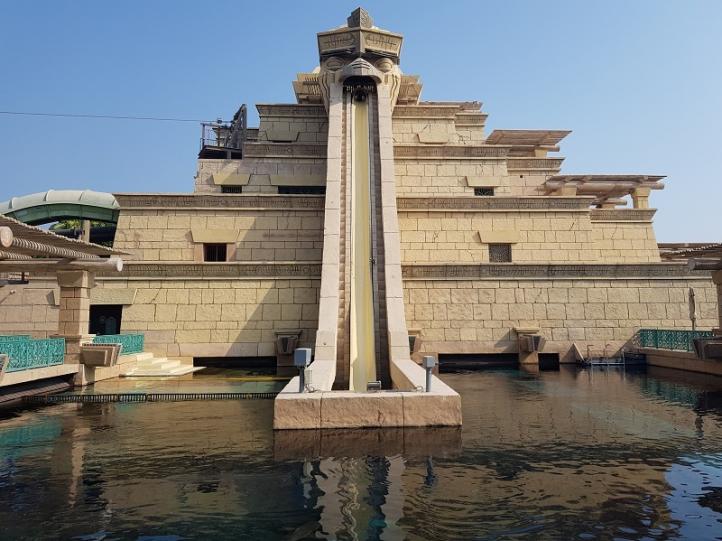 In Poseidon Tower, the following attractions are located:
Poseidon's Revenge is a slide that made a splash in 2013 after its launch as part of the addition to the complex. There, you will feel the real wrath of the sea king when the floor disappears under your feet, and you go in a lightning spurt through the entire pyramid and literally fly out.


Zoomerango is a weightless journey with dizzying ups and downs on a huge mattress that can accommodate up to 6 people.


Slytherin is a double water sprint, where the luckiest one wins and the competition turns into an amazing race through narrow corridors and plexus rotates.


Aquaconda is a descent inside a makeshift snake with numerous winding turns and a giant transparent tunnel at the end of the trip.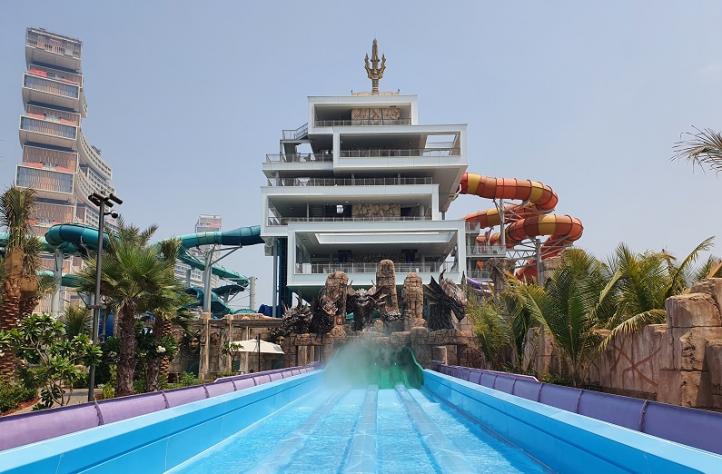 In the newest Trident Tower, you can relax and have fun on the slides:
Blackout is a trumpet that combines the effect of Poseidon's Revenge and Leap of Faith, which will take you on a completely dark journey with dizzying turns and crazy descents. This is the absolute top in terms of new park zone extremeness!


Hydra Racer is a fun timed descent on mattresses for up to 4 participants with exciting twists and turns.


Medusa's Lair Medusa's Lair is a descent on air mattresses along a string of winding canals representing the abode of the Gorgon Medusa with a number of visual effects.


Shockwave is a fascinating group descent of medium extreme for the whole family.

Odyssey of Terror is an action-packed doughnut descent with a series of accelerations, free falls, and the effect of weightlessness, which, by the way, is the longest waterslide in the world.


Vortex is a moderate and fun slide with a variety of loops, whirlwinds, and twists, from which guests flop into the pool directly from the pipe.


The youngest visitors will also find many places to have fun. The children's area with 14 attractions is called Splashers. Here, for kids to have fun, there are plenty of small slopes for skiing, all kinds of hanging cobwebs, and a water pistol. Two large buckets pour water over the kids and create an atmosphere of endless sea fun. And in April 2018, for kids up to 1.2 m tall, the park was replenished with the new Splashers Island with wonderful slides. In the new zone near the Trident Tower, kids can frolic in the Splashers Lagoon and Splashers Cove zones and enjoy unique entertainment in each of them.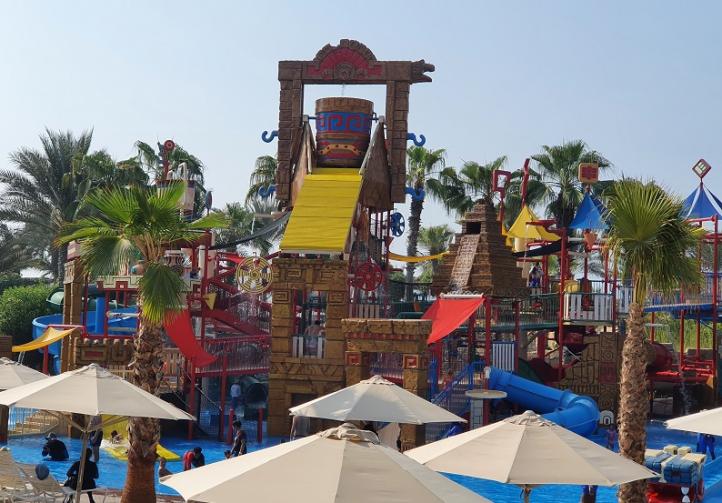 Aquaventure also offers guests exciting programs dedicated to marine inhabitants. For example, in the Shark Lagoon section, parents with children can participate in feeding the stingrays. Children from 7 to 12 must be accompanied by an adult.
The unique shark safari does not require any special diver skills, and thanks to the unique helmets, you will walk under the water of the lagoon teeming with colourful inhabitants. You will be able to quickly and safely find yourself at the bottom and enjoy the unusual company. In addition, even guests from 8 years old can participate.
You can move from one point to another either along the stream or with the help of special escalators, which reduces the travel time when riding in different areas.
We couldn't but mention a "lazy river" attraction, which is an imitation of a real mountain stream with rapids, waterfalls, currents, and waves. The total length of the object is almost 2.5 kilometers.
You can take a break from adventures either on a wonderful 700-meter beach or in numerous cafes and restaurants right next door.


Tickets price:
Standard
Adults and children 1.20 m and higher – AED 295 (81.3$)
Kids from 3 y.o. and below 1.20 m – AED 249 (67.7$)
Kids below 3 years old are free of charge

Tickets price at the park gate – AED 320 (87.2$)

Combo
Adults and children 1.20 m and higher – AED 325 (88.3$)
Kids from 3 y.o. and below 120 cm – AED 279 (75.8$)
Kids below 3 years old are free of charge

Tickets price at the park gate – AED 400 (108$)

Park Timing:

Daily

10:00 am – 7:00 pm
How to get to Atlantis Aquaventure Waterpark
This area can be reached by taxi or Palm Jumeirah Monorail. For those who have rented a car, there is free parking at Nasimi Beach (the kind staff of the Atlantis Resort will always help and show the parking location).


---

Welcome to the Touristino Dubai!
You can buy tickets at a discount
«Tours in Dubai» here >>>
---