Back in 2012, HH Sheikh Mohammed bin Rashid Al Maktoum, ruler of Dubai, announced the Dubai Parks and Resorts, a DXB Entertainment PJSC megaproject which, once completed, would be the largest theme park in the Middle East, covering a 2.3 million sq.m. area in Jebel Ali, Dubai.

The groundbreaking ceremony was held in 2014 and the project was gradually released to the public, starting October 31st, 2016 and ending January 10th, 2017.

Dubai Parks and Resorts comprises 3 theme parks, Legoland, Motiongate and Bollywood Parks, 1 theme water park, Legoland Water Park, Riverland, the dining and shopping destination that is the gateway to the other parks and finally Lapita Hotel, a Polynesian theme family hotel.

Legoland Dubai and Legoland Water Park bring the Lego brick world to your doorstep. These are great destinations for families and children 2-12 years old.

Motiongate connects you with the best creations of Columbia Pictures, DreamWorks Animation and Lionsgate.

Bollywood Parks is actually the first Bollywood themed park in the world.

Riverland is a unique dining and shopping theme park, with more than 60 stores and restaurants occupying the banks of the river that runs through the park.

Lapita Hotel, the ultimate family-friendly destination, offers great holiday packages and free access to the theme parks for all its staying guests.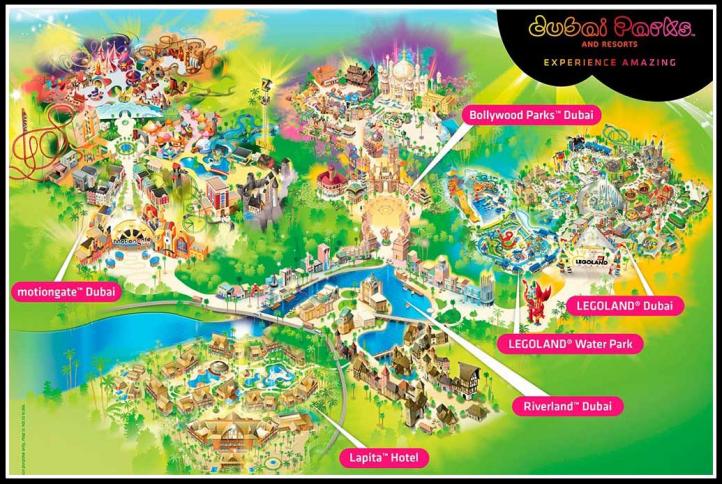 And the great news just keep coming.

In 2017, it was announced that DXB Entertainment PJSC in association with Merlin Entertainments will add a Lego theme hotel to Dubai Parks and Resorts.

Also by 2019, the famous US Six Flags Amusement Parks is setting shop in Dubai Parks and Resorts with Dubai Six Flags, the first Six Flags park in the Middle East.